Information about exhibition
Moscow, Manege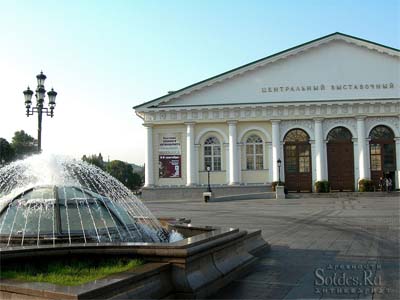 Адрес : Moscow, square Manegnaja 1, Manege



The Central showroom "Manege" - one of the main exhibition platforms of the country. The total area of the building makes about 12 thousand square meters. The hall of the Manege is executed in modern style find fault-tek. On two top floors of the building administrative premises and cafe are placed. The international exhibitions, significant city actions, grandiose show programs and presentations pass regularly from the moment of opening of the updated Manege. The Moscow Central Showroom Manege is located at walls of the Kremlin and in five minutes of walking from metro stations "Aleksandrovsky Garden" and "Library of Lenin", "Ohotnij rjad" and "Theatrical". The central Showroom the Arena represents the unique combination of modern exhibition technologies and luxury of the monument of architecture.

Total area about 12 thousand square meters. Two exposition halls, which technical equipment there corresponds to last international standards, the conference hall equipped with wireless system for simultaneous interpretation, spacious cafe on the viewing platform of the third floor.

Transportation

The item of the underground "Aleksandrovsky garden", further some minutes on foot.
All the coming and going in the exhibition Moscow, Manege
11.10.23 Russian energy week - 2023
Our company can help you to choose exhibitions in Russia