Information about exhibition
Moscow, Gostiniy Dvor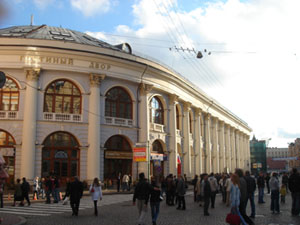 Адрес : Moscow, street Ilyinka, д.4, the Complex "gostinnyj the Court yard"

Moscow Gostiniy Dvor is located in hundred meters from the Kremlin, fairly it is considered the most prestigious exhibition center of Russia. Technical possibilities Atriuma: the area covered with the transparent dome about 13 thousand sq. m., the amphitheater on 450 places, three-storied galleries, powerful system klimatologii, possibility of connection of electroinstallations, communication systems and water — give the bases to name Moscow gostinyj the court yard one of the best exhibition centers of Europe.

Last reconstruction has begun in 1995. It is planned to transform gostinyj the Court yard into the basic information and the business center of the city, not only to change architectural shape of the building, but also to replace functional features of many premises.

The Total area should make 81 600 sq. m, The internal court yard-atrium covered with the transparent roof has the area 12 000 sq. m Is planned to make its one of the most representative exhibition platforms of Moscow. The parking on 500 mashinomest is planned.



Transportation

The item of the underground "Area of Revolution", then on foot on the Bogojavlensky lane to street Ilyinka.


Input on the exhibition in gostinom the Court yard from street the Barbarian, д.3 (from hotel "Russia").
The item of underground "China-city", then on foot on street Ilyinka.
All the coming and going in the exhibition Moscow, Gostiniy Dvor
30.03.23
04.04.23
06.04.23
19.04.23 art MOSCOW - 2023
11.05.23 The nation's health - 2023
07.06.23 ARH MOSCOW - 2023
30.08.23 THE MOSCOW INTERNATIONAL BOOK EXHIBITION-FAIR - 2023
20.09.23
12.10.23
31.10.23
07.11.23
22.11.23
22.11.23 THE RUSSIAN ANTIQUARIAN SALON - 2023
Our company can help you to choose exhibitions in Russia